Wow! It has been a while since I was here last! I was in danger of getting to that point where you can't blog again because you left it too long since you last posted that when you come back, you have to have something amazing to come back with....well today was one of those days. How about this; cupcakes delivered to my front door on National Cupcake Week while I worked with my lovely, amazing, photographer friend
Kate
?
We both work from home and we have both been struggling a bit with being productive during the daytime over the last few weeks so we decided that instead of spending hours talking about how we *needed* a studio at the bottom of one of our gardens to work in, we would make do with what we had and have a trail-run at working together in my lounge. It has to be said, people were dubious about how successful we would be but it was a good day-I ended up with two cold cups of tea, that's how busy I was, sewing away!! I never normally let my tea go cold but I was just too busy. Working from home is fab but sometimes you need that office banter and clearly it is good for work too!
So, the cupcakes? Another lovely Katy has started making cupcakes from her kitchen in Wroughton, near Swindon and she was looking for guinea pigs to road-test cupcakes in the post and of course, it would have been rude to pass up such an offer so this morning we were eagerly awaiting Postman Pat. Maybe I was a little *too* eager because when I opened the door to him, he told me that I looked much too happy for someone that early in the morning. Katy sent three types of cupcake, this one being the rocky road one and they were amazing!! If you are in
Melksham
this Sunday, Katy will be selling her cakes on her
Katy's Kitchen
stand.
So, my WIP this week? Well it is *still* the granny square blanket. I decided, after lots of people told me that I was mad not joining it together until I had finished crocheting the 150 squares, that it was time to start joining them together so I have...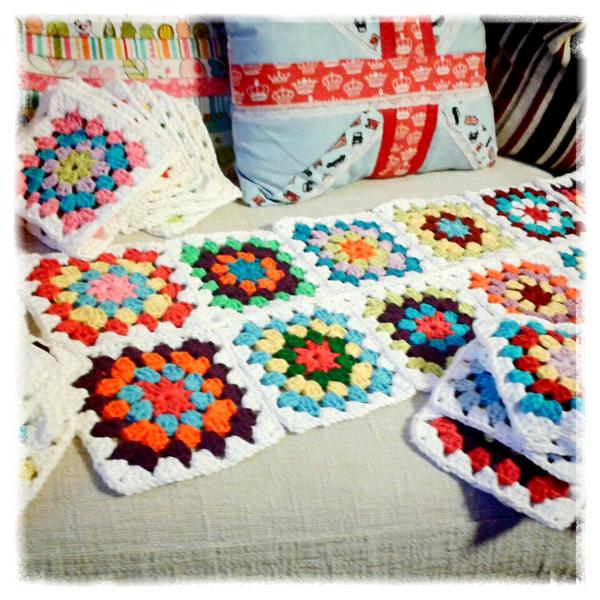 I have joined 12 together and it is taking forever! I hope I get faster at this game or I could run out of patience really soon!